22 EP 02: Roof Tech-PV Mounting with Roof Tech's AlphaSeal™ Technology (Recording)
Course Description:
Since the dawn of the solar industry, PV installers have struggled with mounting systems that put the roof at risk by drilling holes into rafters that can damage shingles and cause leaks. In 2013, Roof Tech introduced its innovative flexible flashing technology with RT-Butyl, and those risks quickly faded into the past. Now, Roof Tech brings you AlphaSeal™ Technology, the impenetrable sealant that eliminates the need for caulking once and for all.
In this workshop, Roof Tech's Sr. Business Development Manager, Milton Nogueira will help us explore Roof Tech's self-flashing PV mounting systems legacy and background, code, and best practices. Maximum span comparison between the structural codes ASCE 7-10 and ASCE 7-16 for both RT MINI and RT APEX. A continuing education credit for NABCEP is available!
Learn more about Roof Tech's products here!
Presenter(s):Milton Nogueira, Senior Business Development Manager
Format:Online/Zoom
Required Materials:
Computer with Internet access
NABCEP CEC's: 1 hour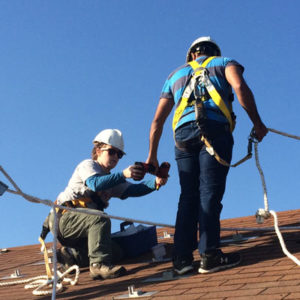 Price:
MREA Member Price: $8
Non-Member Price: $10
Course Date:March 4 - December 31, 2022
Registration ends on December 31, 2022
Course Time:
12-1pm CT