22 EP 04: S5-ROI of Installing Solar PV on Metal Roofing (Recording)
Course Description:

Choosing the right platform for mounting solar panels can significantly impact both initial and long-term costs. With increasing popularity, the metal roof is the ideal host for mounting solar photovoltaics (PV) and is the only roof type with a service life that actually exceeds the service life of a PV system. Not only is a metal/solar roof system less expensive upfront than other roof+solar system combinations, but it's also likely to result in a significantly higher lifetime, return-on-investment.
With metal roofing, the seams or ribs of the roof act as inherent (and cost-free) "rails" providing a rail-less, direct-attach system, so no extra rails are needed. However, adapting to new technologies can be daunting, especially when it comes to rail-less PV mounting. A few small shifts in thinking can produce huge savings in labor, material and logistics, so it is worth a look.
All project stakeholders will learn how to look at the roof and PV system as a single asset with supporting ROIs, which makes the selection of a metal roof obvious by the numbers, even from initial costs. Additionally, this course outlines best practices and "how-to's" for installing rail-less solar on metal roofs, including accessories, such as microinverters and optimizers.
Check out a sneak peek of this topic from S-5!
Thank you S-5! Metal Roof Innovations for donating standing seam clamps and PV Kit 2.0 railless system that makes up some of our over 30 kW of PV on the roof of our main office!
Learn More
Presenter(s):Mark Gies, Director of Solar Business, S5
Format:Online/Zoom
Required Materials:
Computer with Internet access
NABCEP CEC's: 1.5 hour(s)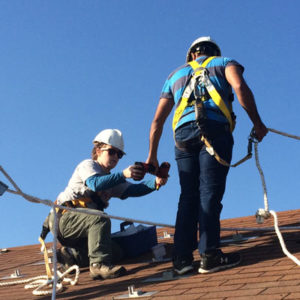 Price:
MREA Member Price: $8
Non-Member Price: $10
Course Date:March 18 - December 31, 2022
Registration ends on December 31, 2022
Course Time:
12-1:30pm CT