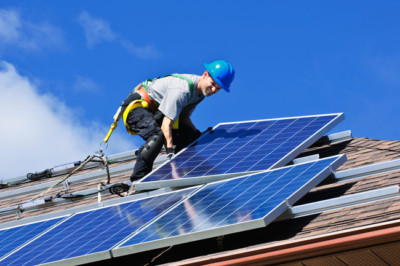 Advanced PV Installation Workshop (PV 401.01) – MREA Carport
Custer, WI

– May 29 - June 2, 2018
Non-members:
$520
MREA Members:
$500
In this five-day workshop, students will participate in both lecture and hands-on installation activities to construct a 19.4 kW PV canopy structure. The installation will include the complete structural and electrical integration of a Poly-Tex canopy structure, IronRidge flush mount rail system, 72 Kyocera 270-watt modules, a Fronius Symo 10.0-3 480 inverter, a SolarEdge SE10K-480 inverter with P600 Optimizers, and the required balance of system components.
Participants will work as part of a crew led by a professional installation team that has been installing PV systems since 1979. Lecture topics include site safety, system design, component sizing, equipment selection, structural considerations, installation best practices, and National Electrical Code requirements.
Note: This course contains a prerequisite of Basic Photovoltaics (PV 101) or equivalent training. If you'd like to take PV 101 before the workshop begins, please contact Jenny Heinzen (jennyh@midwestrenew.org or 715-592-6595 x-108) to get enrolled in an online course that works with your schedule.
THIS COURSE IS LIMITED TO 12 PARTICIPANTS.
Back to Course Calendar