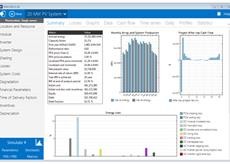 Introduction to System Advisor Model (PV 430.02)
Stevens Point, WI

– June 14
Non-members:
$150
MREA Members:
$130
This 4-hour intermediate-to-advanced level course uses a combination of presentations and practice exercises to introduce students to System Advisor Model (SAM). SAM is a free software for techno-economic modeling of renewable energy projects provided by the U.S. Department of Energy National Renewable Energy Laboratory (NREL) and is used by project developers, system designers, researchers, and others involved in making technical and financial decisions about renewable energy projects. Course participants will work through examples of a residential/commercial rooftop photovoltaic system and cover assumptions for system design, retail electricity rates, and building loads, and analyze model results such as performance ratio, net present value (NPV), and payback period.
Please download System Advisor Model ahead of time, and bring your own laptop to class.
THIS COURSE IS LIMITED TO 20 PARTICIPANTS.
Back to Course Calendar