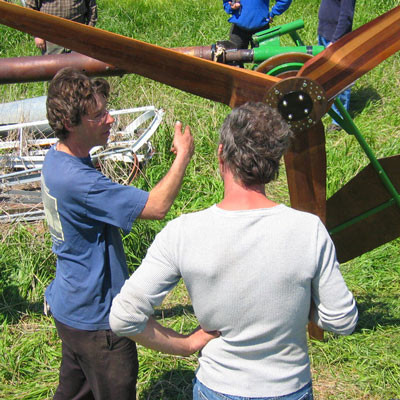 Small Wind Turbine Design & Construction Workshop (W 306.01)
Custer, WI

– July 9 - July 14, 2018
Non-members:
$820
MREA Members:
$800
Build a wind turbine from scratch!
This six-day workshop is an excellent opportunity for participants to learn a variety of skills. The turbine(s) constructed in class are ideal for those who are interested in building their own wind power systems for fun, to save money, or for generating power in the developing world.
Some time will be spent each day in lecture, learning about electricity, wind energy, wind turbine design, towers, site assessment, and wind energy system components. But most time is spent in the shop, actually working - welding, cutting steel, woodworking, carving blades, mixing and casting resins, soldering, and winding coils – just to name a few of the steps. Experienced or not, course participants build all the components, including the alternator.
Expect to work hard, to learn lots, to have fun, and to meet new lifelong friends.
Who should attend? Homeowners, land owners, farmers, electricians, woodworkers, welders, engineers, hobbyists, DIY-ers, environmentalists, students, and educators interested in:
Building their own wind turbine(s)
Working in the wind energy field
Learning about wind turbine design and construction
Using a variety of tools to learn new skills
Living off-grid
Back to Course Calendar