UPDATE:
We were lucky enough to provide solar + storage training and installations in Toa Baja, Puerto Rico in March of 2020 prior to COVID-19.
The solar + storage installations and training were a success!
The class was attended by 15 municipal staff and community college students. The class ran seven days and included a mix of lecture and hands-on that included: building and wiring the array, installing the inverter and batteries, running all the associated wiring, and programming and commissioning the system.
At the municipal police department there was a 6.9 kW solar array installed with an 8 kW inverter and a 14.2 kWh battery bank. This system is designed to offset the electrical usage in the facility and provide critical backup power when there is no other power source. This system provides redundant backup power to their internet server, tsunami siren, and critical computer and communication devices.
The existing solar system at the community center was retrofitted to provide that facility with critical backup power and a 14.2 kWh battery bank.
Thank you to all of our donors for supporting this project!

In March of 2019, we partnered with 
the
 City of Madison, Northwind Solar, and 
the
 Couillard Solar Foundation to conduct 
a
 solar installation and training for 
the
 municipality of Toa Baja, Puerto Rico, which had been without power for months in 
the
 wake of Hurricane Maria.
The
 installation was held at their Community Center and will serve as their emergency command center in 
the
 future. There were six municipal employees and six technical college faculty and students who participated, and 
the
 training was 
a
 great success. Working with donated funds and materials, we were able to execute 
a
 six-day, advanced level training that combined classroom presentation with hands-on installation experience.

Returning to Puerto Rico in 2020:
In late February 2020, we will be returning to Toa Baja, Puerto Rico to conduct a second workshop and installation. Using donated modules and racking, we will again be working with our partners at the City of Toa Baja and the local technical college to install an 8 kW system on the Toa Baja municipal police department.
The police department was without power for one and a half months after Hurricane Maria, as the utility grid was down and their backup generator did not work. This installation will have an inverter that is utility interactive with battery backup and will provide the police department with over 20 kWh of energy storage and an 8 kW PV system capable of keeping the battery bank charged when there is no utility source available. This system will enable the police department to maintain its critical functions throughout grid outages and reduce the operating costs for the facility year round.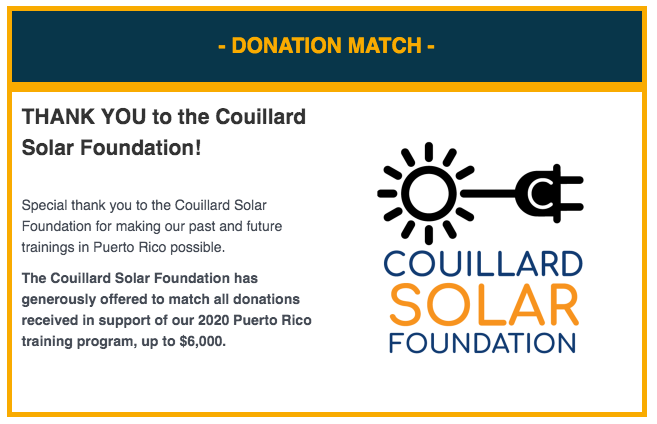 Donate