Can we trust Google's estimates?
Lots of solar customers, installers, and apps use Google Project Sunroof to generate estimates for rooftop solar installations. Here at MREA, we've referred thousands of people to that tool, mostly for the really handy visual solar irradiance information you get when you plug in your address. We usually include the caveat that while Project Sunroof's estimates for solar potential are pretty good (they do use LIDAR data, after all), they aren't that great at estimating prices or savings. But being an iterative service of Google that has gained traction and presumably improved over the last several years, I wanted to test these assumptions.
I reached out to Greg James, who is a long-time MREA Member and a past participant in one of our Milwaukee solar group buy programs. Greg put solar on the duplex where he lives and combined the meters for both units into one. He's been tracking his energy consumption and production over several years. He was happy to oblige.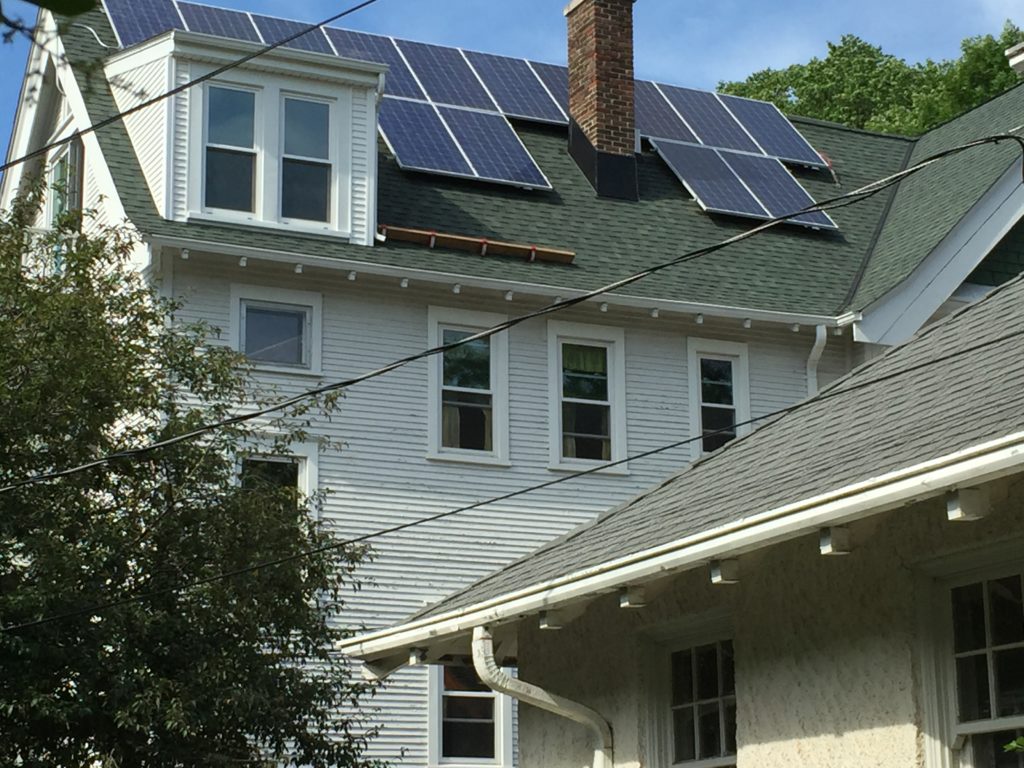 Solar Irradiance (Available Sunlight)
Here's what Project Sunroof returns for his address.
The south-facing portion of Greg's roof is mostly yellow, with a purple blob in the center. That's Greg's chimney. During the day, as the sun moves across the sky, it casts a shadow on one or more panels. It appears clearly in this image from 1:00 pm on January 10, 2022. There's always one or more panels that are out of operation because of that chimney. In summer, when shadows are shorter, he says this isn't quite as noticeable, but it is always there.
The two panels on the lower left are points of interest as well. Those two panels are on top of a dormer. They are almost flat compared to the rest of them, which are at about 45°, and as a result, snow doesn't slide off those two panels as quickly. Interestingly, those two panels produce better than the rest in the summer because the sun is more directly overhead. In winter, the 45° panels perform much better. The steeper panels typically produce 265 watts while the flatter ones peak at about 190 watts during the winter.
This level of detail is not clear from the information Project Sunroof gives us, but it does give us good hints and can help you get a better prediction of how your solar array will perform.
System Size and Performance
Project Sunroof asks for your average bill and bases your system size on what you tell it. Since we were working backward and Greg has a system just under 5 kW, the closest I could get Project Sunroof to give me was 4.8 kW, based on an $80/month average bill.
Based on that input, here's what Project Sunroof estimated:
"1,502 hours of usable sunlight per year based on day-to-day analysis of weather patterns

1,445 sq feet available for solar panels based on 3D modeling of your roof and nearby trees

$8,000 savings estimated net savings for your roof over 20 years"
Let's start by unpacking that last estimate in particular: "$8,000 savings estimated net savings for your roof over 20 years."
The utility rate at Greg's house is $.137/kWh. In his utility territory, net metering is credited at retail with monthly true-up, and excess generation is credited at avoided cost. Assuming Greg's system saves him a net of $8,000 would mean Project Sunroof estimates around 2,920 kWh per year.
$8,000 / $.137 = 58,394 kWh over 20 years.
58,394 / 20 = 2,919.7 kWh/year.
2,920 kWh/year from a 4.8 kW array with very little shading is a conservative estimate, to say the least. NREL's PV Watts calculator (an industry-standard tool) estimates 5,755 to 6,386 kWh per year for a 4.8 kW system in the same location. (Note: It's possible that Google assumes a more "round" number for their assumed price per kWh, like $.10/kWh or something. Even then, their resulting estimate of ~4,000kWh/year would still be extremely conservative.)
Let's look at actual production over the past few years. The following three charts are based on values generated by Greg's system's energy production monitoring software, not the utility. (Greg's utility's billing periods aren't the same as calendar months.)
The following chart is based on the utility's data:
Next is production and consumption info. Note the difference between the first two years and years thereafter. This reflects different use from before and after Greg started to rent out the 2nd floor. During the first two years, his daughter lived there and used a lot less energy than the family that now lives there, which includes two parents and three kids.
Greg's system's actual annual energy production over the last several years has averaged 5,539 kWh. His solar array has offset approximately 60% of his property's usage (remember, he combined the meters of two units). That 5,539 kWh of production saves him roughly $759 per year, and the quick math says that over 20 years will amount to ~$15,176. We could calculate even more precisely if we included an assumed utility rate escalation factor (usually assumed to be 2-4%/year) and a module degradation factor (usually assumed to be .5%/year) but that's outside of the purview of this post.
Pricing
Let's turn our attention to the pricing element. What does Project Sunroof tell us about the overall price Greg could expect to pay if he were going solar today? As you scroll down the page you see some financing information. You can expand to get some details. Let's take a look:
| | |
| --- | --- |
| Up-front cost of installationBased on a 4.75 kW installation. | $13,731 |
| Total payments over 20 years$0: Modern solar arrays use micro-inverters and should require no maintenance during their first 20 years.$5,645: Remaining utility bills assuming 2.2% annual price increases. | $5,645 |
| State and Federal Incentives$3,236: Federal Investment Tax Credit (ITC).$0: State tax credit. | -$4,518 |
This has a handful of issues. First, at the top, they displayed 4.8 kW. Now we're talking about 4.75 kW. Why not use the same figure throughout? The cost per watt they assume is $2.89 ($13,731 / 4,750 Watts) which is acceptable for an estimate like this.
They make a point of saying this solar array will require no maintenance at all, but, in general, it is commonly assumed that an inverter will need replacement at around 15 years. Micro-inverters may or may not last as long.
The State and Federal Incentives section is puzzling. As of 2022, the federal tax credit is 26%. 26% of $13.731 is $3,570 (somehow neither of the numbers they display is correct). They give us nothing for Wisconsin state tax credit, which is right because we don't have a tax credit here, but staking that number at $0 overlooks the state Focus on Energy rebate of $500. Maintaining an ongoing catalog of the nation's state and local renewable energy incentives would be a herculean task, I admit. But since it is being done elsewhere, they could at least say something along the lines of "check for state or local incentives" and link us out to DSIRE USA.
Conclusions
Greg sent me a few final thoughts that I think are worth sharing:
"Last year we consumed 9,070 kWh. At $.13 per kWh, annual electricity for both units is $1179.10 or $98.26 per month.

When I put that into Project Sunroof (rounded to $100) it tells me I should have a 6.8 kW system. That actually maps to my personal sense of things… I wish I had installed more panels and their recommendation would be equivalent to 6 or 7 more. Given the nature of the roof and chimney configuration, 4 more would have been pretty easy to add."
So what can we make of this? Project Sunroof gave us a net savings estimate of $8,000 over 20 years. Based on that number, we had to calculate for ourselves what that would mean in terms of annual energy production, and when we did it was an incredibly conservative estimate of energy production per year (2,919 kWh versus observed average of 5,539 kWh). However, when Greg input his actual average monthly bill, Project Sunroof did give us a realistic estimate for the size of system he would actually prefer (6.8 kW).
You may be asking yourself, as someone considering solar, how Project Sunroof can actually be helpful. Here's how I would respond to that question:
The solar irradiance visual will immediately give you a clear idea of your solar potential. In other words, if you have a lot of sunlight on your roof, you'll probably be able to tell right away, and vice versa.
It helps to get your average energy bill right because they seem able to calculate a reasonable system size given your energy bill. That could be the starting point for a conversation with a solar installation company. But only a starting point…
I wouldn't trust Project Sunroofs' assumptions about cost. One of the big takeaways from our presentations is that every home is different, and the nature of residential rooftop solar is that it's all custom work. Don't be surprised if a solar installer quotes you something wildly different from what Google suggests will be the up-front cost of installation.
I also wouldn't compare Project Sunroof's financial analysis against a site assessment and cost estimate from a solar installer. Project Sunroof's analysis just doesn't look accurate, especially in terms of available incentives. Most local solar installers will be able to put together something much more accurate.
Huge thanks to Greg James for sharing his thoughts and data with us for this post.
Need help choosing a solar installer? Here's our handy guide called "Selecting a Solar Installer."