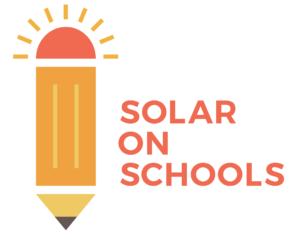 Through generous support from the Couillard Solar Foundation, Solar on Schools provides a range of free resources to Wisconsin K-12 schools interested in pursuing a solar PV system. The goal of Solar on Schools is  to change the solar PV landscape in Wisconsin, one school at a time. The initiative has two tracks:
Solar on Schools Grant: The first provides WI K-12 school access to  a module donation grant, with a value of over $20,000. This grant is intended for schools well on their way to installing a solar PV system and/or are already working with or in contact with installers developing a project. See our PDF application questionaire and sample Memorandum of Understanding (MOU) for more information on requirements and grant expectations.
For solar systems smaller than 100 kW, a school will be granted up to 50% of the panels required for the solar project.
For systems 100 kW and larger, a school will be granted 50 kW of panels
Awarded schools will have the option of buying additional panels up to 150 kW at a wholesale cost discount due to the buying power of the Couillard Solar Foundation
PV Development for WI K-12 Schools Course: The second track provides technical assistance through an online, on demand course. This track is intended for school staff, school faculty, school board members, or students wanting to learn more about the process of procuring a solar PV system for a WI K-12 school but not sure where to begin or how to make solar a reality for their school. Schools will have access to case studies, resources, and prerecorded video modules from experts that have experience in procuring a solar PV system for a WI K-12 school. No need to reinvent the wheel when you can collaborate and learn from your peers on everything from education integration, roof assessment, and even financing your system.