We are so pleased to return to classroom-style in-person solar training!
We're offering our core course progression (PV 101, 201, 202) in a series of night classes held from March through June.
LOCATION
Couillard Solar Foundation
10 Liberty Street STE 122
Deerfield WI 53531
These night classes might work well for busy schedules during the day, and are perfect for individuals transitioning into a solar career! We welcome all interested students to sign up for the full course progression or choose courses a la cart based on your experience level.
MREA CORE COURSES:

The completion of these three courses will qualify you to sit for the exam to achieve your NABCEP PV Associates Credential. The industry standard for entry-level solar professionals.
COURSE SCHEDULE:
March 30 through April 13  — Basic Photovoltaics (PV 101.17) 
Class times are March 30, April 6, and 13 (Wednesdays) 5-8pm
Price: $115 – $135 (no prerequisites required)
This eight-hour course addresses the basics of solar electricity.
April 20 through May 4 — PV Site Assessment (PV 201.17)
Class times are April 20, 27, and May 4 (Wednesdays) 5-8pm
Price: $175 – $195  (PV 101 prerequisite)
This eight-hour course uses presentations, exercises, activities, and class discussion to demonstrate how to perform a residential PV site assessment, using a template created by the MREA. 
May 11 through June 15 — PV System Design (PV 202.17)
Class times are May 11, 18, 25, June 1, 8, and 15 (Wednesdays) 5-8pm
Price: $295 – $315 (PV 101, and 201 prerequisites)
This 16-hour course teaches the step-by-step process of designing a PV system.
Where will your PV Associate Credential take you?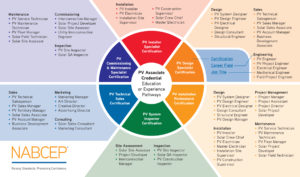 QUESTIONS? 
Contact the MREA Training Team at courses@midwestrenew.org!
Ph: 715-592-6595
Learn More About MREA Solar Training