PV System Design (PV 202) – August
Prerequisite(s): Basic Photovoltaics (PV 101), and PV Site Assessment (PV 201)
Course Schedule
Course Start Date: August 1 - Course End Date: September 30, 2020

Registration ends on August 31, 2020

This is a self-paced online course. Students can work through recorded presentations, exercises and activities at their own pace.
Optional office hours are Thursday @ Noon-1:00 p.m. CT. You can reach out to your MREA instructor any time but log-into optional office hours for a class discussion weekly.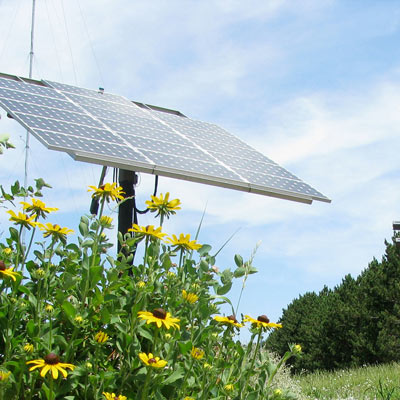 We encourage you to read our Student Handbook if you are planning on attending courses. You will find helpful details about our programs, policies, credentialing and more!
Required Materials
Technology: computer with speakers and Internet access
Required Textbook: You may choose one of two (or both):

Solar Electric Handbook: Photovoltaic Fundamentals and Applications, 2nd ed. Solar Energy International. ISBN# 978-1-256-91816-5.
Photovoltaic Systems, 3rd ed. James P. Dunlop. ISBN# 978-1-935941-05-7.

We currently do not have copies for sale for online courses, so you are responsible for buying, renting, or borrowing your own textbook.
Course Pricing
MREA Member Price:

$295

Non-Member Price:

$315